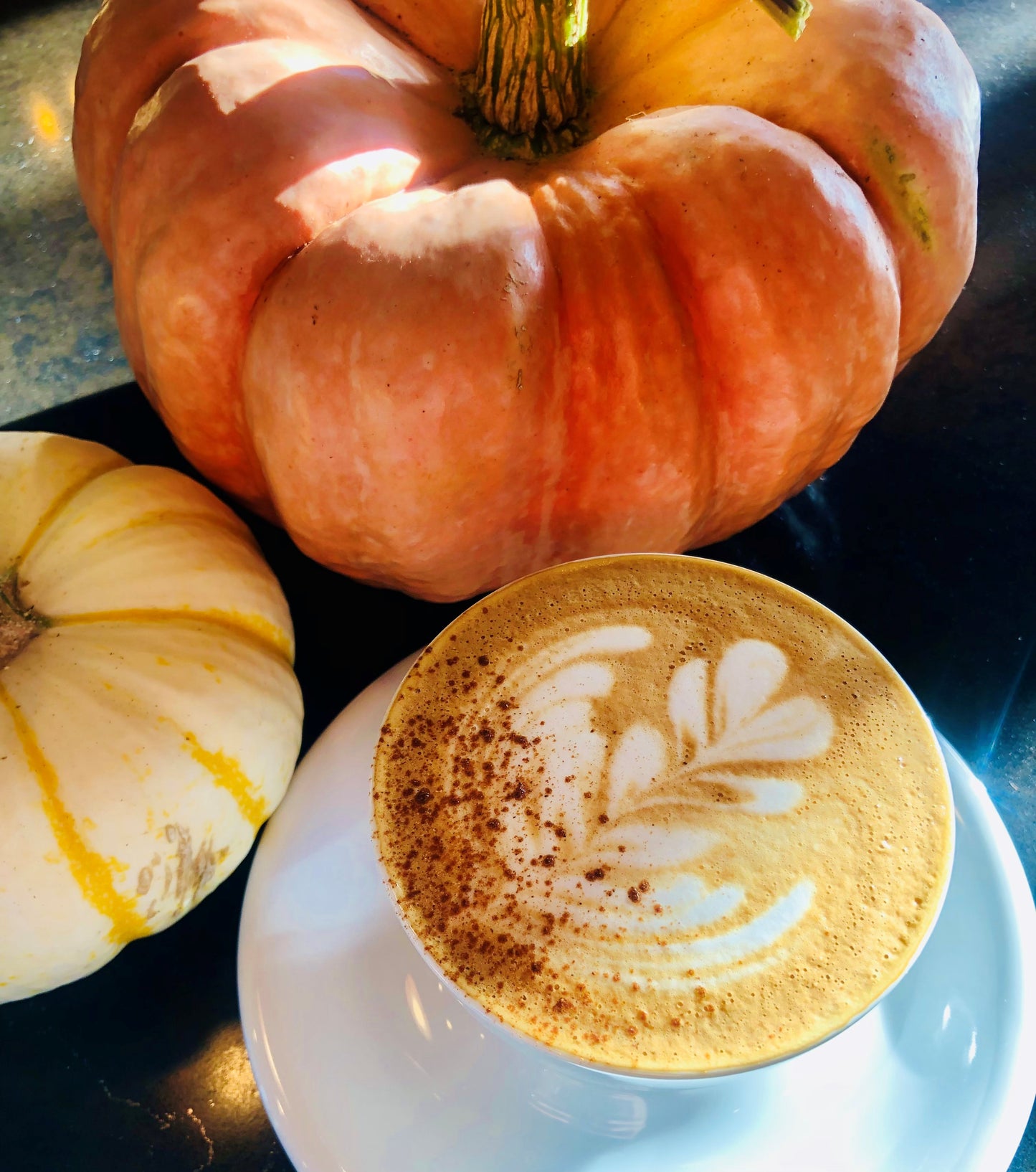 DOMA Coffee Lab Manager/barista/superstar Kaiti Black shares thoughts on coffee, life, and the coffee life.
The Pumpkin Spice Latte is a syrupy sweet coffee(ish) beverage infamously popularized in the early 2000's by none other than Starbucks. This seasonal beverage is coveted by many, with huge groups of humans calling Autumn "PSL Season," and this is just the sort of nomenclature that pisses off the PSL haters.
But, why has the PSL become a contentious topic? Is it because of the sect of humans who have coopted fall to be synonymous with Pumpkin Spice everything (Pumpkin Spice Candles, Pumpkin Spice donuts, probably Pumpkin Spice socks), or is it because of general Starbucks side-eye?
Well, whatever is causing you to hate on a PSL, knock it off! 
While I, too, do not appreciate the OG PSL, I do love a good latte sweetened with a rich, spiced pumpkin sauce. Over the last decade of my barista career, I've seen countless cafes try to recreate the original recipe, but we don't need a dupe, we need a pumpkin sauce that tastes incredible! And that's what I've done!
Easily recreateable at home, this pumpkin sauce can be used in your coffee, to top your ice cream, or in any way you can imagine. This spiced pumpkin sauce will delight your senses with a smooth pumpkin flavor, subtle sweetness and a zingy spice kick. 
Start with one can of real pumpkin puree. (Extra points if you make your own.)
Combine the pumpkin puree with two cups of water in a thick-bottomed sauce pan.
Once the puree and water have mixed, add 2 cups of sugar, 2t ground clove, 1T nutmeg and 1T liquid cinnamon extract. The secret ingredient here is the cinnamon extract, also sometimes called cassia. (Don't sub in ground cinnamon, as it's made from a bark that will absorb liquid and become slimy and won't mix into the syrup. THAT will make you hate a PSL.)
Simmer the mixture for 5-7 minutes over low heat, then cool and serve!
Welcome to PSL Season everyone.
-Kaiti