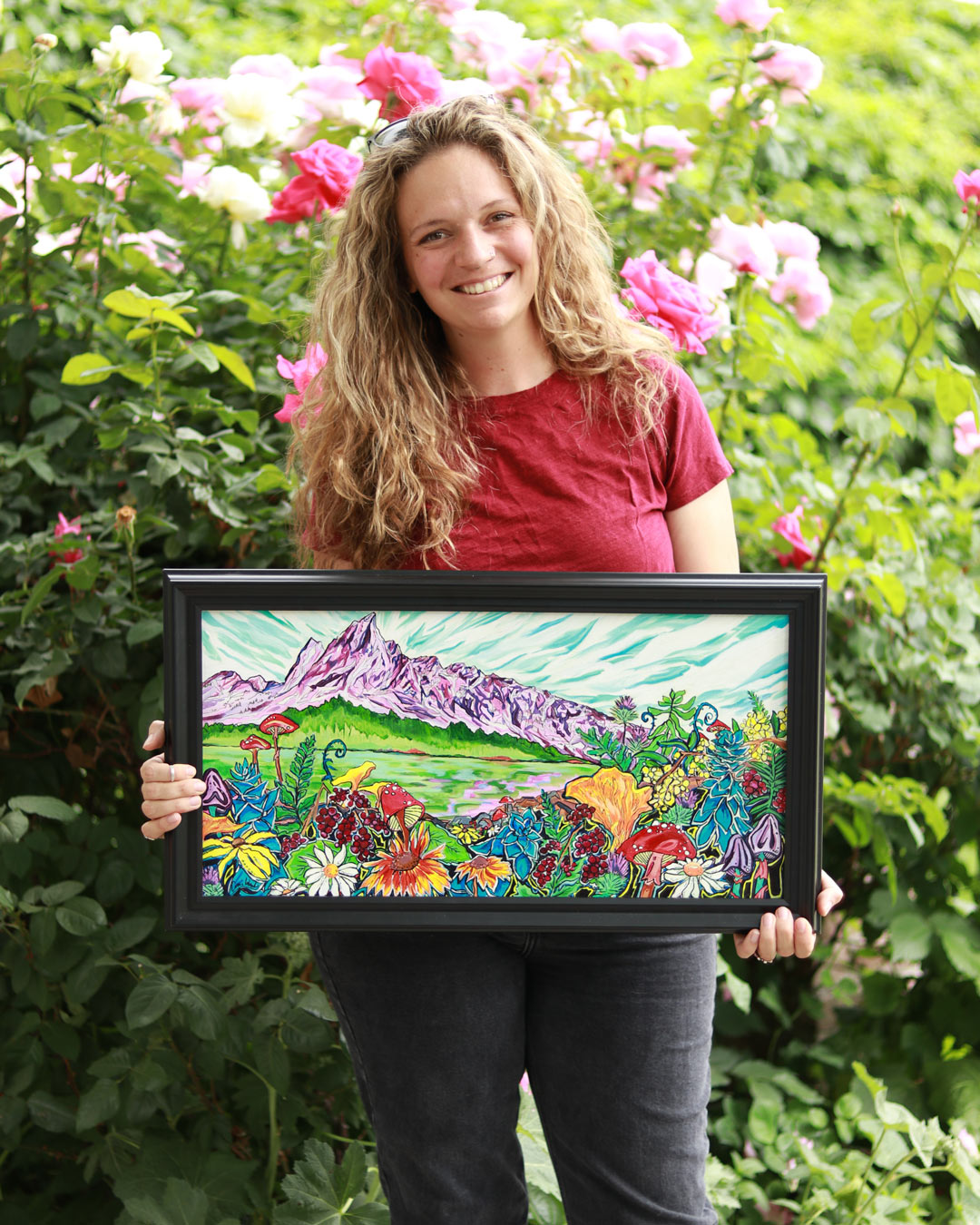 Our 2023 Summer Lovin' coffee label is colorful, unique, and has a personality of its own. We got in touch with artist Cori Ward and talked about how she represents the macro and micro of landscape, where her obsession with florals began, and her favorite thing to do after a cup of coffee in the summer.
Lisa: Tell me a little bit about your journey as an artist. How did you land on this medium of acrylic art?
Cori: I've always loved creating. From cooking to building to performing in school musicals and playing an instrument, I love creative expression in any form. When COVID hit, I started expanding on some of my floral doodles at home on canvas. I had been working with watercolors and drawing bouquets for fun, but I decided to take out some of my mom's old acrylic paints she had given me and began experimenting. I freaking fell in love. It would take me so many strokes with watercolors to capture the depth and brightness that I found with acrylic paint. From there, I started looking over some of my backpacking photos and tried to capture some of the landscapes found in Western Colorado.
L: You seem well-versed in that Colorado geography! What was it like to create art for DOMA that was based on North Idaho landscape? Can you talk about the process of learning a place in order to represent it?
C: I was initially a little worried about this at first. As someone not from the area, I wanted to do my best to honor Idaho's wild, colorful, and breathtaking landscape. To begin, I asked some individuals from Idaho about what areas they thought were staples of their wild community. From these conversations, I was introduced to the Sawtooth Wilderness area and was instantly captivated by the ruggedness of the peaks and the diversity of the flora that grows there. In continuing to research, I kept coming back to El Captain and Alice Lake. It reminded me of some peaks in the San Juan Mountain range that are my absolute favorites. This location is now on my bucket list to explore, hopefully sometime in the near future.
L: On your website you write that you "wrestle with the world around you." I love that topic. Can you expand on that complexity a bit and on how it informs your art?
C: I think, for me, it's been about acknowledging the different moments and even realities of life around me. That sometimes life is full of joy and other times it's cruel. Often, I want to deny the existence of the pain that often comes from things I don't understand or can't control, but 'wrestling with the world around me' I think just means that I'm choosing to hold space for the good and difficult. Painting has become a healthy outlet for my wrestling: when I don't have the words, when I'm unsure or tired, I can simply start to paint. My canvas is a grounding space for me to process.
L: Your pieces include amazing bright colors. For you, how might that color choice influence a viewer's understanding or idea of that land?
C: I think people might feel slightly misled by the use of my colors? I currently live in the high desert of Colorado, and a lot of it is dry, barren . . . I've even heard the word 'dull' used to describe it. Meanwhile, I tend to see and paint it in hues of bright oranges and reds. While it's not overly realistic to what someone might immediately see, I think my colors help illuminate more of the depth and emotion behind it.
L: I love the close-up florals in so many of your paintings. Where did that idea come about? What's your philosophy behind giving the micro the front stage?
C: Growing up, my dad was (and is) a landscaper. We constantly were surrounded by flowers and greenhouses growing up. I would always notice flowers first, in any landscape or design my dad made. As I started exploring and backpacking more, I found myself still looking down and taking pictures of all the wildflowers I could find. But soon I realized how much I missed by just staring at the ground. I hated that I had to either look out and up to enjoy the mountains or choose to look down and around to enjoy the floral landscapes. I decided with painting I could hold both in one space.
L: What's your favorite way to get outdoors and what's your favorite way to take your coffee?
C: I love whitewater rafting. I've been guiding for years now in the summer and I am fully obsessed with the water. If I'm not guiding customers or friends, I'm out paddleboarding the river. Waking up and making coffee in the morning before a day on the river = *chef's kiss.* In the winter, I love any and all things skiing. I'm hoping to do some hut trips this year with friends and family.
L: Anything else you'd like to share about your art, the process, or what's next for you as an artist?
C: Just know, if you create [art], that it may not be everyone's cup of tea. When I started selling some of my originals, I was so fearful of what others might say or think. And, sure enough, I had someone during one of my first live events pull me aside, heavily critique every aspect of one of my pieces (without me asking for feedback), and give me their beginner's painting class business card because I seemingly had no idea what I was doing. It crushed me. I remember sitting in my car and crying. But I learned that if I put fear of rejection in front of me, then, dammit, I was never going to paint anything. The fear could be there, I just had to wrestle with it, and not let it win. In the journey, I have found people and people have found me who connect with my brush strokes and pieces. The beauty I'm learning within creating is that it doesn't have to be something everyone loves, it just has to be something I love. There will always be opinions, but the voices of others do not have to be what guide your artistic adventure.
Thank you, Cori, for your art and your time. To find more of Cori's artwork, visit her website at coriwardartwork.com or follow her on Instagram @Cori_Ward_Artwork.